ROLLUP & POPUPS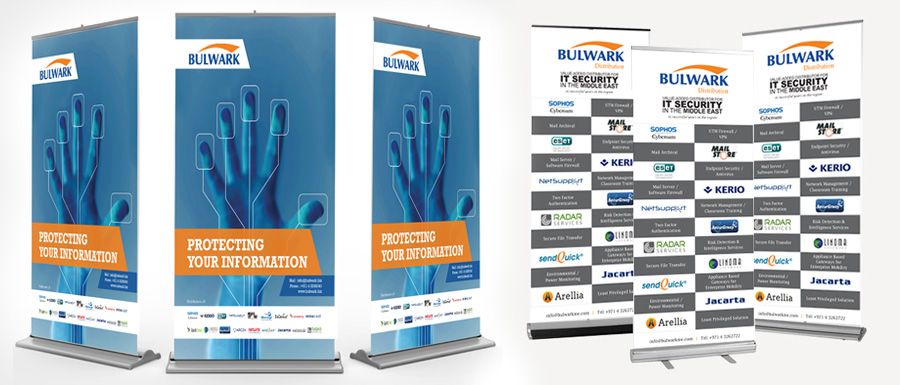 Roll up banner stands also known as retractable banner (ROLLUP & POPUPS designing company in UAE) stands are generally considered the easiest and most convenient trade show banner display to use and this is why they have become the most popular style of banner stand, both for trade show and retail banner displays. They are also popular for promotion displays in stores, shopping malls, theaters, airport and conventions. The stands come in easy to carry bag and your roll up banner can be revealed and set up at the venue quickly. It is easy to replace your roll up to promote new products whenever required.
How to Design and Print Roll Up Banner in UAE ?
watermelon UAE is a Dubai based design and print agency. We deal with all kinds of design and print services in UAE. We have highly qualified Designers and Printing Specialists. To design and print your roll up banners, please call our expert at your convenience.
DISPLAY STANDS, EXHIBITION STANDS & KIOSK
Billboards are used for advertising purposes and are mostly found in high traffic areas. For outdoor advertising a custom made which is designed in a unique way will work much better. The largest standard-size is called bulletins. Posters are also a common form of this type of advertising.
Where to find a billboard designing company in UAE
If you want to grab the attention of your perspective customers then you can use smart hoarding board services and you can leave a long lasting impression on them. The sizes can vary but the most important thing is the design so be creative. Hoarding board design depends on different factors such as location, budget and the type of product or service you want to promote. If you are looking for professional services at reasonable cost in Dubai then contact us today for a free quote.